This year I hosted Thanksgiving because momMA and WA Dad had been in Africa for two weeks so momMA didn't have time/energy to prepare anything and her two boys were each with the in-laws for the holiday. Normally, it is just JP and me. We eat what we feel like, which may or may not be turkey, stay in our PJs all day and go to a movie in the evening. This year, he was house/dog-sitting, so we decided to have Thanksgiving there and invited the rest of my WA family - Tim, Megan, MJ and Theo - to join us. It was fun. JP and I cooked all day, Megan brought the most delicious dip in the whole world, and I was able to enjoy all the people I love out here.
The Friday after Thanksgiving, it is tradition to go downtown to watch the Tree Lighting at Westlake Center. This year, I roped momMA into going with me. We rode the bus directly to the center, sang some Christmas carols, watched the tree lighting and Macy's star, saw the fireworks, visited the gingerbread houses, experienced the snow at Pacific Place and rode the monorail to Seattle Center where we split a Mod Pizza and took in the Christmas lights. It was a fun weekend.
Ichabod "helping" prepare the Thanksgiving meal
Auntie's beautiful girl, Tim and JP
momMA, WA Dad, Megan, Auntie's boy
My view Friday morning, after the big day. I sat on the couch, sipped hot cocoa and watched the sky lighten as the sun came up.
Video of the tree lighting, star, and fireworks
Westlake Center Tree and Macy's Star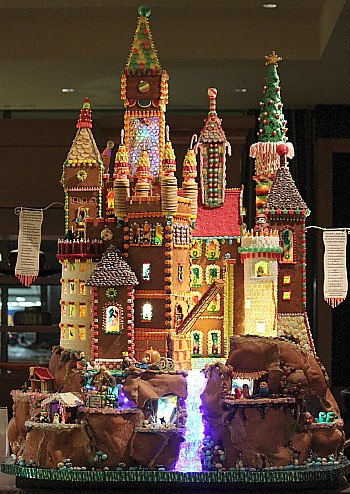 Gingerbread House at the Sheraton
Seattle Center tree with the Space Needle and its tree on top!